Theres something a bit magical about the beach on a cool, cloudy, winters afternoon in Western Australia. Perth is blessed with the most pristine beaches of all the capital cities in the world - and it doesn't seem to matter what mother nature is doing, there is always beauty and majesty to be found along our coast. There's also something pretty amazing about the impact the beach can have on your mood. I've always found the beach inspiring, as do so many, and wanted to incorporate the feel of a wintery perth beach into a collaborative hair and makeup concept shoot.
Combining my love of silvery, wintery, beachy feelsies, with another love of (*gasp*) Taylor Swift (I know, I know, its embarrassing but she is amazing and I'm a big, daggy, overaged fan), I developed an idea for a concept shoot to showcase a makeup look I had been wanting to try.
The film clip for Taylor Swift's 'Out of the Woods' starts with the character looking out onto a stunning coastline (I actually found out this is a New Zealand beach!) where the overall colour concept includes greys, silvers, and blues. I knew the best way to achieve this kind of lighting and colour palette in nature, was to wait for a cool, crisp, still day, and head to the beach!
Katie Rebekah, UK-ite, turned Perth-ite, and now influential Perth lifestyle blogger and major beach lover (not to mention bird lover - another story!) was the talent in front of the lens. I had seen Katie's instagram account, and her blog, and wanted to reach out to her to be involved in the shoot. I noticed her appreciation for the Perth coastline, and also of course, just how gorgeously stunning she is! I thought no one could be more perfect for the shoot! When I contacted Katie over 'the 'gram', she jumped on board straight away which made me a very happy panda!
Also quick to jump on board, was the amazing Terry Lok, talented Perth portrait photographer, with an evident love of the ocean. I have worked with Terry before, and am always impressed with his level of skill, and eye for beauty. He is a perfectionist and it shows in his stunning work! Speaking of Lok's, Rachelle Lord tended to our gorgeous model's Repunzel-esque locks, and did the most beautiful tousled down do. Rachelle does gorgeous work, and I couldn't recommend her more. With years of salon and freelance experience, and a strong eye for detail and beauty, Rachelle is quite the talented lock tamer!
As for the makeup, I wanted to create a diffuse stormy-silvery-grey-smokey eye, soft nude lips, and glowing youthful skin. I used matte grey shades on the lids, transtioning to the brow bone using soft peach and tans - my 'Mind' eyeshadow palette from Stila was perfect for the look. Lips were a mix of 'Shy' matte lipstick shade by Nyx cosmetics, and 'Velvet Teddy' lipstick shade by Mac Cosmetics. I used 'Kristy' lashes from Wasp Hair - which are subtle and create a doll like, open eyed appearance - perfect for Katie's beautiful almond shaped eyes. For foundation I Used NARS Sheer Glow (my absolute 'go to' for foundation), and highlighted using MAC Cosmetics 'Soft and Gentle' highlighting pressed powder. Please get in touch if you would like more product info (brows, setting products etc)!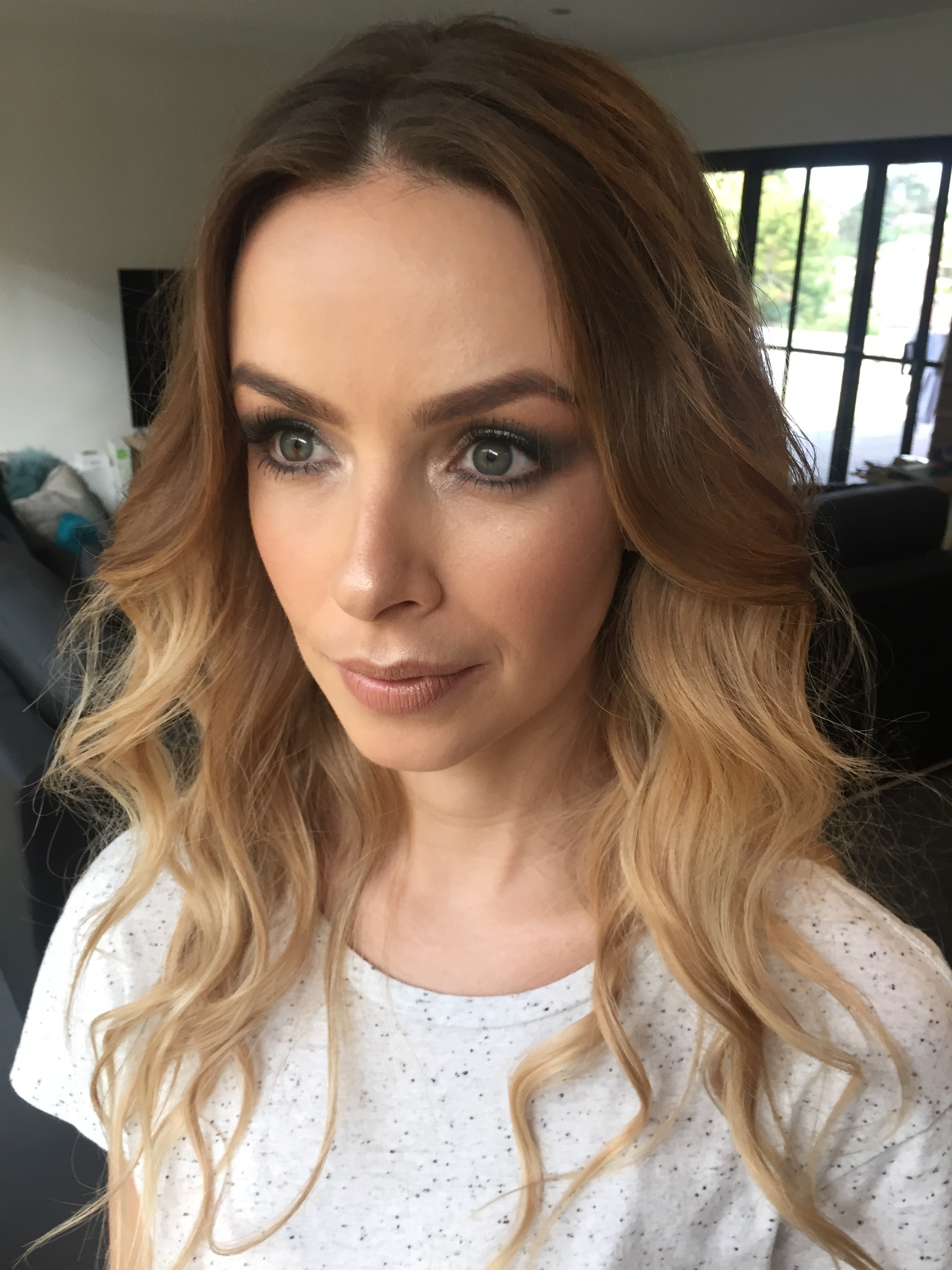 Some behind the scenes shots below :)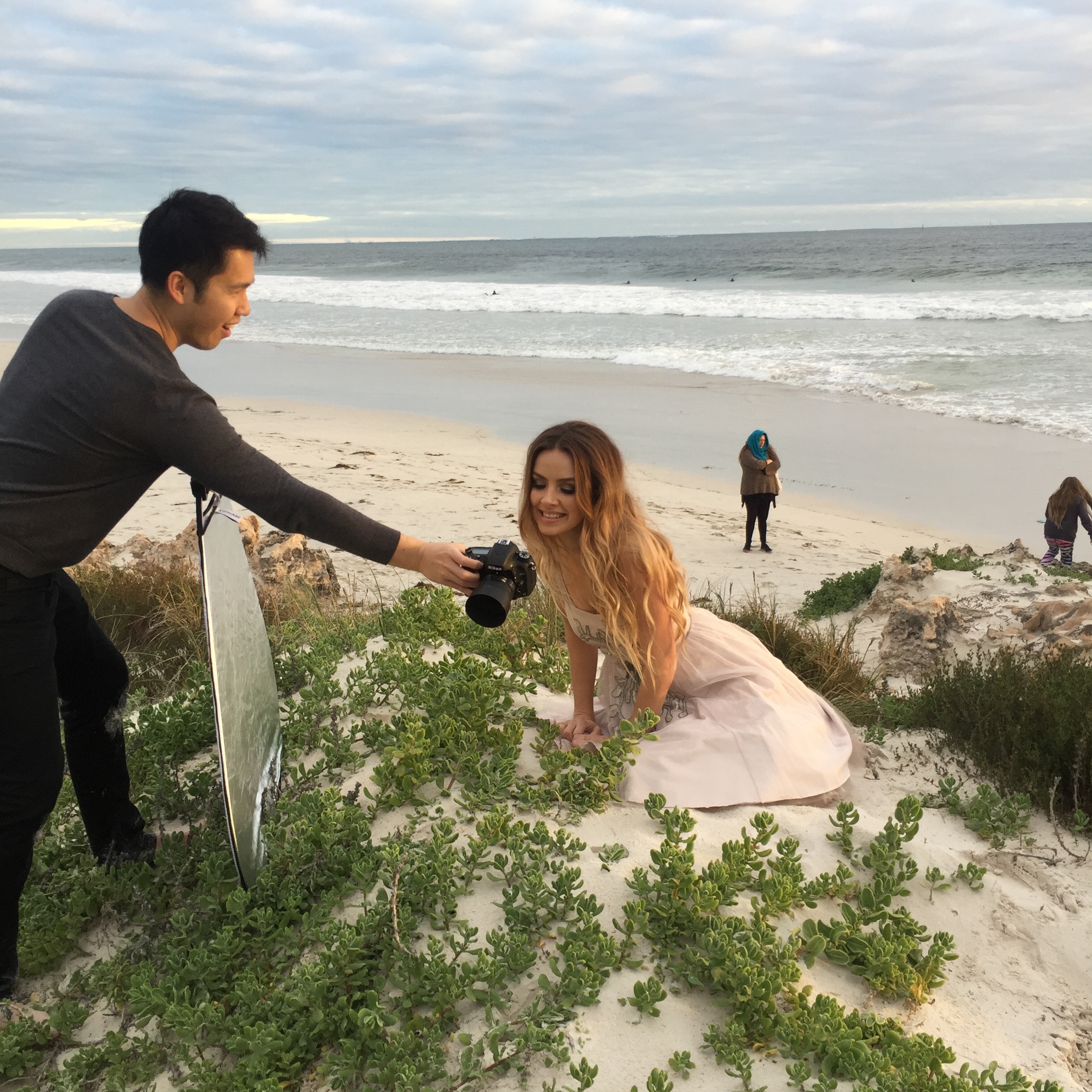 We had such amazing luck with the weather on the day! The beach at Ocean reef could not have been more perfect - with rocky outcrops, intriguing nooks and crannys, mossy dunes, and of course rolling, silver waves, creating an amazing backdrop. Low-hanging, dreamy silver clouds, and shimmering, white-gold sun peaking through, provided the most perfect light to highlight Katie's makeup, and just enough of a soft breeze, helped make Katie's hair come to life! The air had that 'post storm' feel, which I think helped put us all in the perfect mood to bring the concept to life.
I hope you like the professional images by Terry as much as I do, and don't hesitate to get in contact if you would like me to create this makeup look for you!
Cat xox