Earlier this year, I was thrilled when the opportunity arose to do makeup on an exciting styled wedding shoot, organised by The Wedding Network. Katya Lakshmi, is not only very lovely, but she is also the brains and founder behind The Wedding Network, an exclusively West Australian resource guide for brides + grooms to be, as well as a platform for Perth vendors like myself. If you haven't already heard of The Wedding Network, I really recommend having a snoop! AND if you are planning a wedding, I also recommend checking out Perth Brides - The Wedding Network , a closed Facebook group for brides (and grooms) seeking planning support and recommendations for the big day.
So, if you know me, you might be able to tell I'm totally obsessed with the beauty of weddings (...well the beauty of anything really!) so it was a no brainer for me to jump at the opportunity to be part of a shoot I knew would be stunningly gorgeous, as well as the opportunity to meet and work with other Perthies in the wedding industry! I'm a pretty social person (when I'm not being a weird introvert), and really love the collaborative process.
The shoot location was Acqua Viva on the Swan - a stunningly light and bright wedding venue in Nedlands, that juts out beautifully into the Swan River, with views to the Perth city skyline. I took this photo on my iPhone when I arrived - it was such a perfect Autumn day! We were so lucky with how the weather turned out, with not a cloud in the sky :)
The list of vendors involved in this shoot was impressive! I thought it was so cool to see how many others had shown in interest in jumping on board! The very talented lady behind the lens was Hannah Laidlaw of Lola Images. Her work is just stunning, and I think we were all really lucky she agreed to shoot for us. She has a skill for capturing the beauty in objects and people, and I was stoked with how her work captured the makeup.
One thing I found really great also, was getting to work with another makeup artist on the shoot, Renata, from Renata Jovev Makeup. I had seen her work on social media before, and was excited to get to meet her. Often you might be the only artist on a shoot or at an event, so this was a fun variation on that for me. Here's a daggy selfie of us, for your viewing pleasure!
(On the left is me, with Renata on the right)
My two models for the shoot were delights to work with, and of course stunning canvases! Venine Palm and Kayla Paul are both Perth gals, who, among their other accomplishments, both have been recent Miss Universe WA contenders, and are as lovely on the inside as they are on the outside. Renata Jovev made up the gorgeous Kimberley Dressler (on the left in the group images below), also a Perth model, and a contender in this years 2016 Miss Universe WA! Lucky us!
I came up with the makeup concept for the shoot. I wanted the makeup to reflect the Autumn season, and the colour palette of the shoot, which was going to feature mustard and apricot floral tones, lots of green foliage, and accents of copper, bronze, and natural linen. I knew a glistening watery backdrop was likely, and that the shoot would be set in the afternoon sunlight. A dark, wine coloured lip was 'a must' I thought to myself (quite pompously), as well as a statement smokey eye in chocolatey taupes, with lashings of lashes, a clean winged liner and my signature iridescent, flawless skin.
I love the freedom that comes with designing makeup looks for shoots; there's lots of creative licence which is so fun, and for me takes the anxiety out of doing makeup! We all had a blast getting lots of sneaky behind the scenes snaps after makeup and hair was done!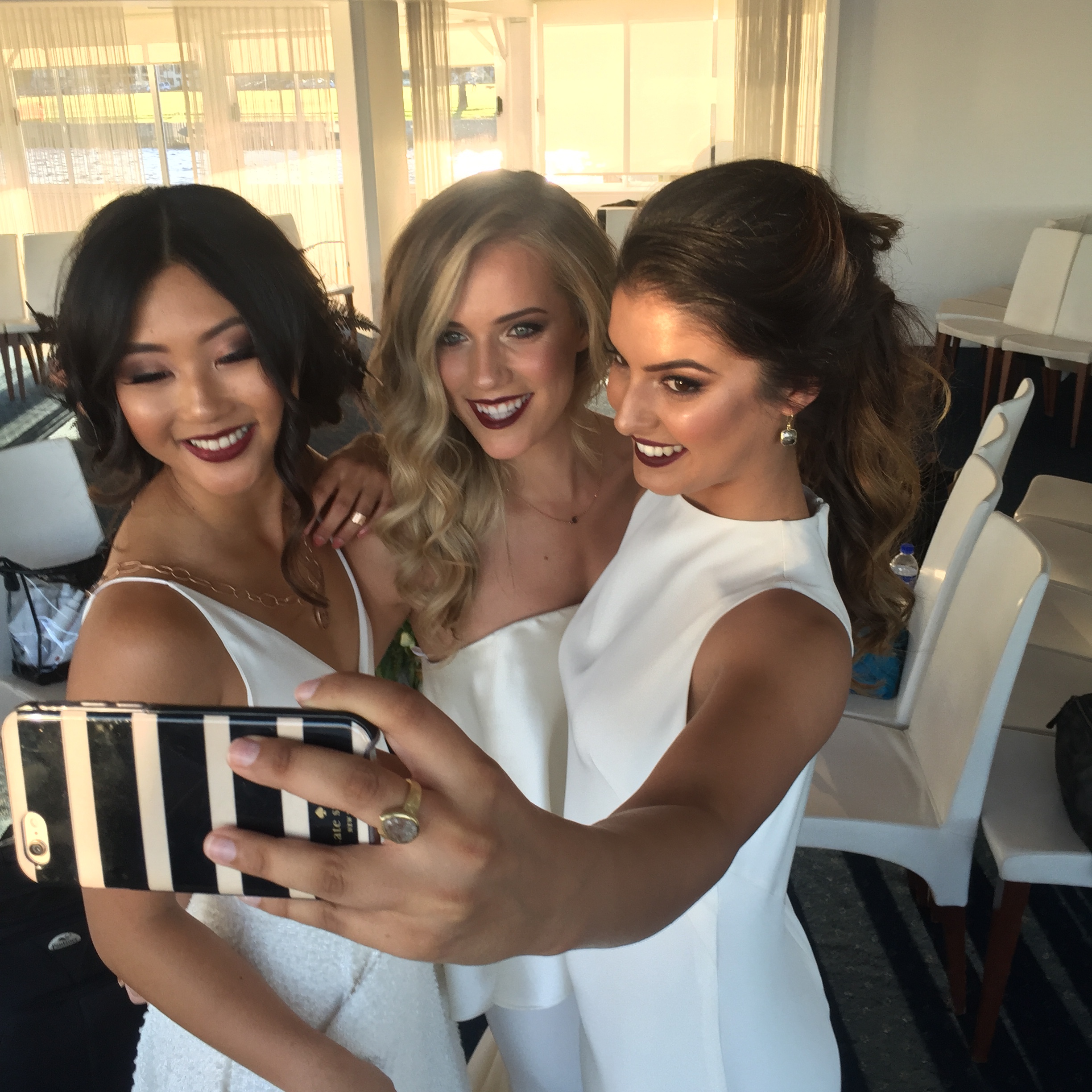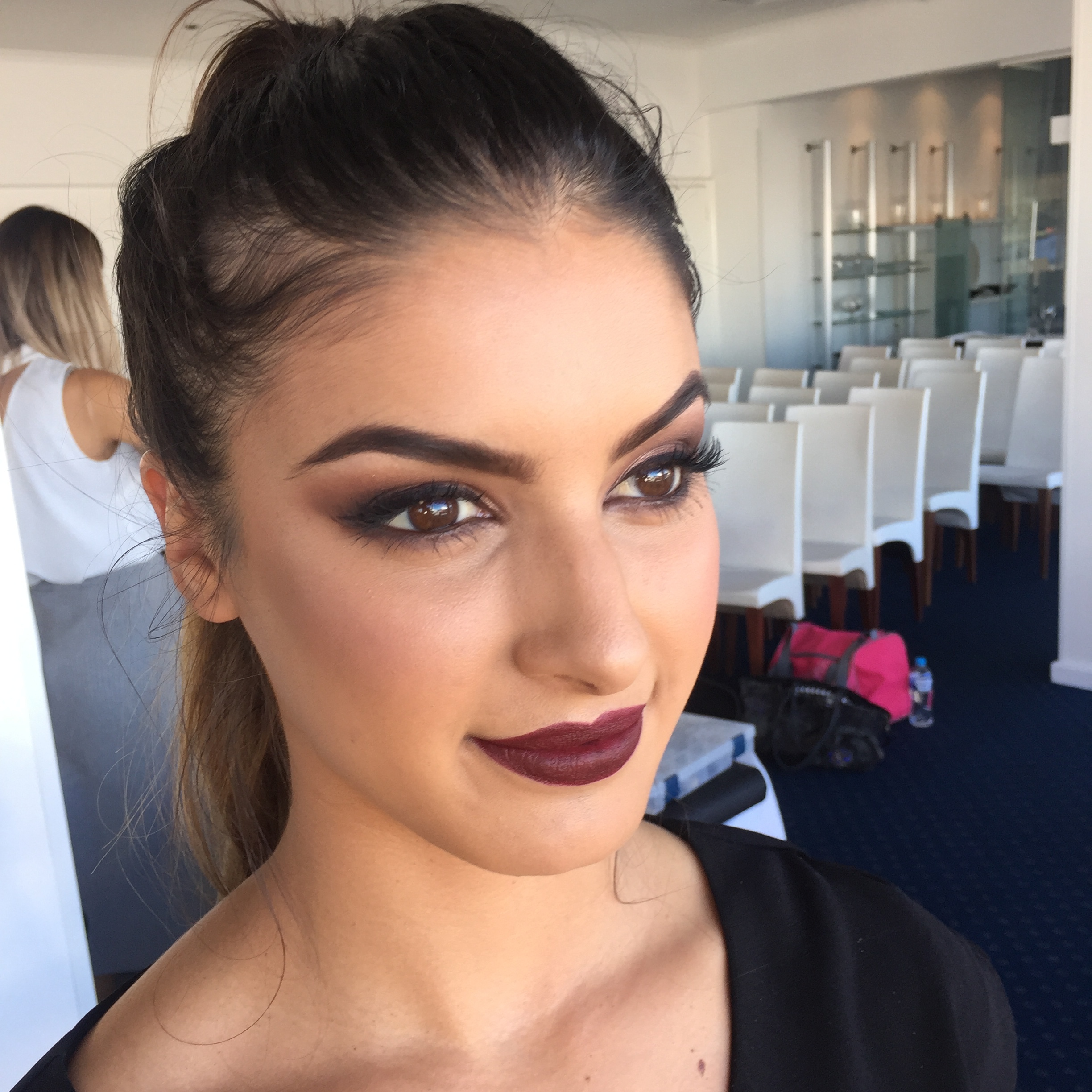 I'm excited to share some of my favourite professional images from the shoot, and I hope you love them as much as I do! I honestly couldn't get over the beautiful blooms just bursting with burnt orange, mustard and apricot vibrancy by Twillery Floral Studio, or the luxe jewellery provided by Luca Jouel, that added so much to the final look on our brides, whose hair, by Arcorace, was delightfully movement-filled in the afternoon breeze. The gowns from Lola Varma Bridal, in all their modern, clean lined beauty were perfect with the majestic watery backdrop.
The table styling by I Heart Table Art, and the 'need to be seen to be believed' deserts were drop dead gorgeous. I'm so in love with the use of bronze and copper for weddings - and Pink Orchard Cakes and Miss Garnished managed to work these accents into the desserts - amazing! And can we all just stop to appreciate the copper chairs from Event Artillery!? I haven't mentioned the stationary suite by Invitings Made Easy yet, but I've met the hard working lady behind this brand before, and she is truly talented and lovely, and her pieces in the shoot made for a beautiful touch. A final little pop was provided by Pretty Willow, who contributed these rad amber glass goblets, which (in a good way!) remind me of my mums stuff from the 70's!
Huge thank you to Katya from The Wedding Network be for having me part of the shoot, and massive shout out to all the other amazing vendors who contributed, and of course to Acqa Viva for letting us take over their venue for the day! Enjoy!